Self Titled Debut Album
Released on Vinyl and Cassette in 1985.
Overseas distributors referred to this album as having the title "Hot Shot", as it was common practice in the industry to name self-titled albums using the side 2 track 2 song. We officially recognize our album title as simply "Ded Engine".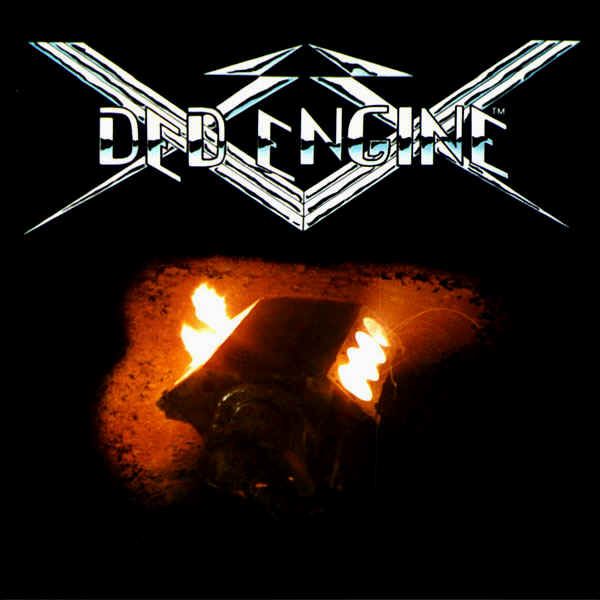 Pictured here is the European version. The domestic version had an incorrect silver and white emblem instead of the color correct black, white, and blue chrome effect emblem.
Song list:
Side A

Scream

Kings of the City

Renegade

Rabid

Bloodlust

Side B

Take A Hike

Hot Shot

Young & Hot

Reign of Terror

'Till Deaf Do Us Part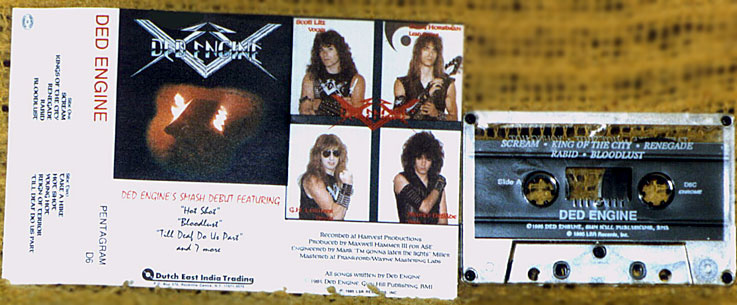 Finally, it was time, and later in 1985 we recorded five more tracks, put them together with the 2nd E.P. and Renegade from the 45 to create the long awaited self titled Ded Engine debut album! Recorded and produced by ourselves and our management team, this album was distributed in LP and cassette form by Dutch East India Trading of New York. Dutch East sub contracted to Black Dragon Records in France who handled European distribution, and SPZV Steamhammer who handled Asia. A&M Records through their Maze label handled Canada, South America and Australia. Important Distributing also handled the record world wide. It was this album that firmed the view of the international eye. In major cities across the U.S. demand was higher than suppliers could keep up with.
This would be our breakout album and year, and we toured the east coast and points in between in showcase clubs. 1985 also saw us featured on many college radio stations and nationally syndicated shows such as Metal Shop. Our faces showed up in national magazines such as Circus, Hard Rock, Metal Edge, etc., as well as the foreign press, in magazines such as Kerrang! and Aardshock. In December, we appeared with Twisted Sister and Bill Cosby on a television show called the "Secrets of Surviving", which addressed the problems that teenagers face; one of which was the "moral hemlock" of Heavy Metal. Of course, we were defending it.
| | |
| --- | --- |
| | And for some reading, here's an article from the Nashville [Tennessee] Metro Times, a weekly publication. This is from the Oct 25 to Nov 7, 1985 issue. Click the article for a larger readable version. |
Would you like a copy for yourself? Limited availability and other options by clicking here!